My writings are not only for the adventurous spirit but a person who wants to learn a bit about the places I visit and engage themselves (how ever they can) in the culture, passions, struggles, and strengths of a country. My words are as much my honest opinion as they are an attempt to capture the essence of a nation, a city, a town, a culture, a people, and even a life whose story isn't so simply labeled. No matter where we travel we will always be foreigners, visitors, or tourists but with an open heart and mind there is great potential for bringing what we experience just a little bit closer to home.
First, the food...


Spend a bit of time abroad and you will quickly notice the go-to food spots are most times right on the side of the road. Jamaica is no exception, with their wide range of food choices lined along the main drag, from Kingston to Negril. Day or night you can find some of the best street food outside shopping areas, beaches, bus stops, and party venues. Likewise, pretty much anywhere there are large groups and locals there will be ample places to eat. When traveling in the West Coast, take advantage of smaller restaurants who grow their food out back or get produce from one of the many farms located right in Negril. Cosmo's, located just minutes from most of the major resorts in Negril, is a great place to get affordable and delicious eats. The restaurant is a haven for workers, tourists, and bus drivers who've made the beach front restaurant their usual hangout spot. The oversized snapper, large drinks, and amazing curry are all priced low to give you a great value. And the digs aren't too shabby either. It isn't the Ritz but would make for a nice place to go day or night.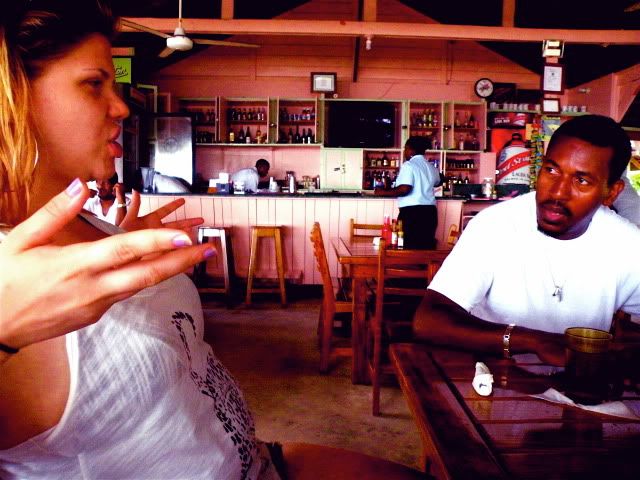 In these photos: Jenn & Chris at Cosmo's
With the look of a patio wrapped around the outside of a roadside home, Choices is an interestingly satisfying
choice
for a group or couple. Unlike many of the smaller, less expensive restaurants of its kind Choices has a romantic charm perfect for a relaxing end to an island day. The meals are well priced, generous, and nicely seasoned. The traditional simplicity of their curry dishes compliment selections of delightfully infused West and East Indian cuisine. Another quiet-as-kept spot to take your dinners just minutes from the center of town.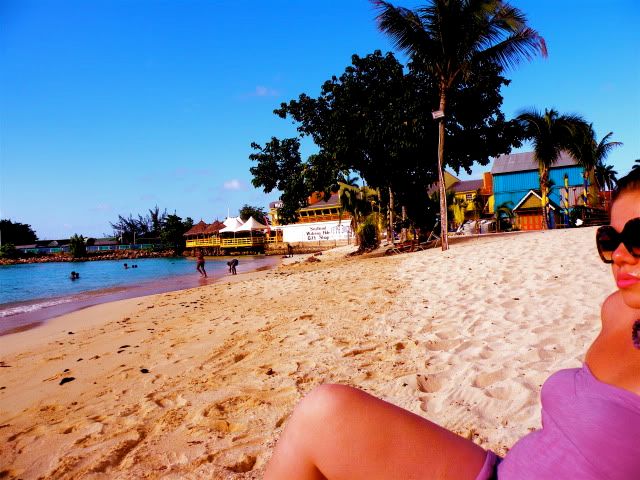 In these photos: Fishermen's Beach




On the North side, Fishermen's Beach is popular hang out spot for locals as well as foreigners who prefer a more authentic taste then most resorts or Americanized franchises serve. Located just passed Island Village, it's accessibility is further evidence of its patronage. You can take the path through its main gate or go to MargarittaVille (for appearances) and cross the rocks byway of the beach. This collection of shacks perched right by the water offers everything from salt fish and ackee to curried lobster fresh and cooked to perfection. If you're not in the mood for a meal just grab a beer and head down to the shore to see the beautiful view. Be advised that this spot is very simple so don't expect anything fancy. Also, I'd advise you not to venture down to Fishermen's Beach after hours mostly for safety reasons, especially if you're not familiar with the town.
Spring Garden is a beautiful restaurant located just a few miles from the center of Ochi. Its dinner selection and dimly lit tables secluded by trees and greenery make it great for enjoying a intimate evening with loved ones. The food was some of the best I've had among all the restaurants and the portion options like the XLARGE Snapper encourages patrons to let loose and splurge. The pricing is a bit of the same, so prepare to pay something a little closer to what you normally spend at home (but it's worth it!) The best seating is in the back, up the step, just across from the main bar where you'll find couples tables and a large group table surrounded by a garden. Though there's hardly ever a wait, Spring Garden is very popular so try to go a little later to ensure you sit exactly where you want.