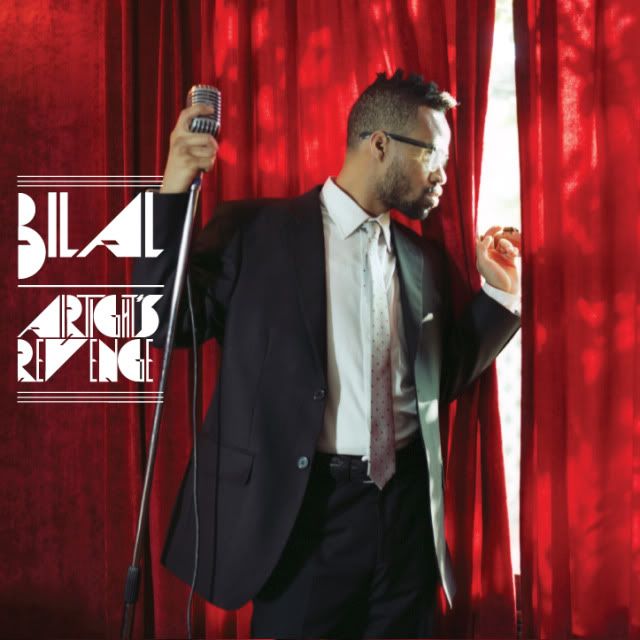 Four years after his second album
Love For Sale
, Bilal Oliver releases the long anticipated
Airtight's Revenge
under indie label
Plug Research
. The album, an eleven track classic, pushes its audience to hear beyond genres as cuts like
All Matter
,
Robots
,
Who Are You
, and
The Dollar
challenge concepts both musically and socially. The album pushes the envelope with abstract composition, groove centered rhythms and layers of funk, pop, hip hop, and jazz blended in seemingly effortless harmony. Much to nothing can be compared to
Airtight
. The best similarity would be something like the soulful sounds of Marvin Gaye, with his masterful vocals and socially conscious content, coupled with the harmonies of old D'Angelo and Cee-Lo Green. Listeners should note that the young singer had been a huge contributor to genre-bending albums like
Voodoo
released
by fellow Soulquarian member D'Angelo as well as a slew of projects released by collective members Erykah Badu, Q-Tip, The Roots, Common, and others.
Bilal's
Airtight's Revenge
is the definite guide to how to deviate from form and live in between disciplines. The quality of storytelling like that of the song
Flying
, is only matched by the refinement of Bilal's pitch; reaching incredible highs and lows as the story weaves in and out to unknown destinations. The audience is given the heaviest of questions and takes away from the album the themes of balance and perseverance, through which past issues are addressed and old wounds begin to heal. Much of the album is produced by Bilal himself along side Steve Mckie. Production credits also go to Nottz, Conley Tone Whitfield, Shafiq Husayn, and long time friend 88-Keys. Though nearly flawless, the shining pieces on the album for me are
Restart
,
All Matter
,
Levels
, and
The Dollar
. A pure classic.
Peep the interview with myself and Bilal
HERE
, where we touch on the early parts of his career, life after the
Love For Sale
leak, and much more.
Airtight's Revenge Track list:
1. Cake & Eat It Too (Produced by Bilal Oliver & Steve Mckie)
2. Restart (Produced by Bilal Oliver & Steve Mckie)
3. All Matter (Produced by Bilal Oliver & Steve Mckie)
4. Flying (Produced by Bilal Oliver & Nottz)
5. Levels (Produced by Bilal Oliver & Shafiq Husayn)
6. Little One (Produced by Conley Tone Whitfield)
7. Move On (Produced by Bilal Oliver & Steve Mckie)
8. Robots (Produced by Bilal Oliver)
9. The Dollar (Produced by Bilal Oliver & Steve Mckie)
10. Who Are You (Produced by Bilal Oliver & Steve Mckie)
11. Think It Over (Produced by 88 Keys)
Visit Bilal at:
http://www.plugresearch.com/bilal
DOWNLOAD this and other albums on
iTunes